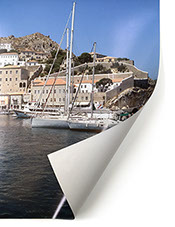 If you are looking for professional-grade photographic quality prints this product will meet your requirements. They are printed on a 10mil photo paper with a beautiful satin finish and highly accurate vivid color. They are suitable for display in professional exhibits, frames, block/float mounted or simply presented as rolled paper prints.
We understand that color accuracy is important to all our clients. Our photo printers are calibrated to international color standards to ensure color-accurate results day-in and day-out.
Because color can vary from printer to printer we offer our clients free proofs to make sure that you will be absolutely satisfied with the results. No guess work, no uncertainty.
Our production schedules are very fast. Although some orders require more time to complete, most orders that are placed before noon are ready by the end of the day. For speedy service submit your files as ready to print PDF files from any design application or PDF files from Photoshop.
Posters can be printed up to 48x96 inches and they are shipped in heavy-duty cardboard tubes inside a 50" box for extra protection.
If your order needs to be shipped you have a few options to accommodate your schedule:
- Free Ground shipping
- Third business day delivery
- Second business day delivery
- Next business morning
If you have additional questions please do not hesitate to call us at 510.649.3001